Winter - BOO
This is what we have! What a mess! And there is more coming!!! I'm Dreaming of Spring, good thing our
bedroom
is full of beautiful Spring and Summer colors. I love the Summer feel it has while still being warm. Hubby is going to get up on the roof and shovel the snow off. I'll be holding the camera in one hand to get it on film and the cell phone in the other hand to call 911. So I'll be blogging about it.....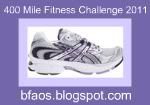 So how was your weekend? Friday night I went to the store and bought the Zumba workout for Wii to add to my 400 Mile Challenge because I get bored easily and after figuring out how to set up my Avatar I was ready to go! Note to all of you who may go out to buy Zumba for Wii - while at the store, get a really good work out bra! I mean a really tight fitting work out bra. Just saying.. This will really make you sweat and I did the 20 minute beginner workout on both Friday and Saturday. So 2 extra miles and I'll hold those extra 10 minutes to add to Sunday's workout. According to the Rules over at Ellie's remember 15 minutes of a work out video = 1 mile and anything over that can be rolled over so 3 -20 minute workouts will give you an extra mile. Anyhow, I was able to get in 43 miles this week giving me a new total of 208 miles. I'm 1/2 way there after 5 weeks!! I'll say it again, riding the bike is my best ally right now. I'm going about 3.7 miles every time I get on that bike and I'm getting faster! 18 miles alone on the bike this week. Just click on the button and see how everyone is doing on their challenge. The challenge is to get up and move. It all counts so get off the couch and move it people! Well finish reading this blog first.
We are still on Grand Daughter Alert as her due date is 2/12/11 so any day now you can expect to expect to hear she is born and she may even have a name -because they don't have anything picked out yet. So if you don't see a post for a few days it's because she is born and we are busy playing and loving on our new grand daughter.
Looking forwarded to this scene instead. Summer - YAY
Who had a Super Bowl Party and what commercial did you like the best? Hubby had worked 12 hours Saturday night so we stayed home and had Chinese food - not really low carb but I was careful and had only a little fried rice and lo mein.