Welcome to 2011! I hope you were all safe over the holiday weekend and had fun bringing in the new year. It was quiet here as hubby worked and Becke the wonder dog and I fell asleep. Hubby did call us and we watched the Ball Drop on TV so we did bring in the new year together (sort of-on the phone) and then I quickly went back to sleep and he went back to work. Oh well!
Saturday was a normal day of food shopping and clothes shopping. Needed to get some work pants in a smaller size and found it funny that if you wear a size 4 then you are short but the size 0 comes in a tall!! Really? That strikes me funny. Sunday I was a great day at at church. The theme for the sermon "Reaching Towards Heaven in 2011!" A lot to think about there. Then we got to play with the best grand daughter in the world!
I am inspired by many things in my life but recently 3 woman especially have inspired me to better care for myself. The first one is Sue B. who walked 500 miles last year! She challenged herself to do this and she reached her goal, walking in all sorts of weather. She understands how important it is to keep moving, to keep the joints moving and to use her own body weight to build up her body. The other woman is Missy D. who lost 82 pounds, and started running. She took charge of her life and she feels and looks amazing. These woman are busy woman, they take care of there families, they take care of others, and still find time to take care of there own health. They are not sitting around watching day time TV and eating Bom Boms. And one more - There is this woman who I see every Sunday as I'm driving to church. I don't know her name but she is always out there walking with her arms in the air working them while she walks. She makes me laugh and I think of the Postal Service Motto, "Neither rain, nor snow, nor sleet or ..." I have seen her walk in all sorts of weather and she also inspires me. I find these woman...simply amazing. So........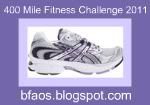 I have decided
to take on the 4
00 mile challenge. Ellie over at
Books, Fitness & Other Stuff
is starting this as a way to get into shape and she has invited others to join her.
Since I've been inspired by the woman above I have joined. Click on the box either above or in the right hand column and see the rules. If you have a blog you can join the fun. If you don't have a blog you can put your miles right here. Together we can cheer each other on and get fit. I plan to post on Mondays - starting next Monday.